The Big Four: Live from Sofia, Bulgaria (2010) (it)
Motto: Live from the Sonisphere Festival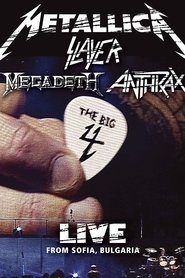 Titolo originale:
The Big Four: Live in Sofia
Valutazione:
8.6 (Voti: 57)
Data di rilascio:
2010-06-22 (2010)
The Big Four: Live from Sofia, Bulgaria:
Il 22 giugno 2010 a Sofia (Bulgaria), sul palco del Sonisphere Festival salgono i "Big Four": Metallica, Slayer, Megadeth e Anthrax. Per i loro fans è un momento storico che aspettavano da decenni. Un concerto leggendariotrasmesso in HD in tutto il mondo via satellite, attraverso 1000 sale cinematografiche.